Actually, there's no standard recipe or perfect answer for it.
There are so many clichés describing company culture that it's harder to even say something about it without being misunderstood or even worse, boring people out. Most people say that their company culture is about ambition, talent, innovation and drive – of course, but these terms are, by the way, some of the most overused words associated with the standard company culture. So then what? What is this culture, behind these nice words, anyway? How to describe yours – that is, if you managed to sense its reality – in a way that could make it authentic and important for others, too? That could bring "company culture" back to its roots, the core of a strong and thriving company?
Give it a thought, first, and see how your job has been changing you, for example. How you feel, how you act, and how you think now could be major marks of how your company culture influenced you, since most of us spend most of the time at the office, surrounded by many different people. This would be an essential part of the process of finding what makes a company culture so important and if resonates with the official statement written in the About Us section
We cannot deny the fact that it takes a strong commitment first, from the leadership board and upper management, to set these clear objectives and a solid value proposition from the start, that would act like the basic principles that shape the company. But these principles must be filled with the essence: the powerful ingredient of company culture is the team. Specifically, one that has the leaders not in front of the "pack", but part of it. So basically…
Company culture is a way of being, or better said, the "being"
It's the spirit of your company, felt and nourished. Is a personality that reveals itself through a certain vibe you get spending time in your office day by day. Maybe unconsciously smiling and joking around, making meals and sharing with your colleagues, while having weird or philosophical talks on random topics, from mathematics in the Universe to peculiar movies and mind-blown innovation; maybe taking initiative to have after-work activities and night outs together or celebrating personal successes with your team, too, because you feel good together; maybe bursting into laughter every time someone says something genuinely cute or extremely silly (it happens a lot) or helping your new colleagues with the same things you've been helped within your first days. Or maybe simply being nicer to people around you, more confident and courageous to try new things you've never thought of before. When it happens this, it "happens" an authentic team that tries and does great things in a cool company. After all, this is what company culture is about: wellness, collaboration, performance, mentorship, personal development and, why not, real friendship.
I'm not saying everything works out perfectly, that would be stupid and false. Rest assured, every team has its challenges and tough situations to get through. And that's great! You cannot have greatness without falls as stepping stones, after all.
For us, the goods and the bads of eJump's company culture are below. No fake news, no alternative facts, just some stories. What's yours?
1. Sometimes we change our astronaut suits and become elves. That's why there was a magic pot of enchanted water, hidden in the basement for a while. LE: Turned out well: a fine, fine beer. Proof here!
2. Our leaders, Bogdan and Radu, like to bring us donuts, cookies, croissants or anything delicious in the mornings (usually on Mondays), but also tasty surprises on special occasions. Rest assured, we try to "counterattack" by bringing fruits, homemade cookies, and, yes, cooked food. We just share all we have, except hummus.
3. It's not unusual to start your day with a good ol' prank: edited pictures of you in weird places, the classic mouse prank, or having a teammate that takes you literally when asked if you want something from the supermarket (a water dispenser, a potato bag, even some detergent). A prank for a prank, right?
4. Weekly massage sessions at the office. What's more to say?
5. Those moments when the leaders make you the leader for a new project so that you'd learn to be even more responsible and independent and it's really scary and exciting at the same time, aaargh!
6. No matter how little experience you have, you got a challenge on your way to learn new skills and do your favorite kind of work.
7. The good, the bad, the better – we have a Monthly Jump where we all get to speak about our projects, worries, and successes and to come up with our own approaches. Always communicate!
8. Ideas have some value, but their execution is what counts. Anyone who have something in mind – work-related or not, but always regarding improvement or teamwork – shares it and we'll all make it happen. Soon we'll go to climbing lessons, for example, where we'll have to work in pairs.
9. Your work schedule is pretty flexible and fair since work-life balance is essential in our times. It's important to have time for your doctor's appointments, family activities, and any "life" moments. Plus, a flexible, but organized schedule also means better teamwork, a productive workforce, and a happy employee (which is most important for eJump)! You can also work fully remotely, come a few days to the office, or daily if you like. For sure we'd like to meet more often, but it's not mandatory!
10. When tough situations arise – and they always do, our leaders don't give us penalties. Instead, depending on the situation, they try to make fun of it while giving us wise tips to solve them ourselves, listening to our proposed solutions, or making sure we understand the entire experience from all sides.
11. We already had Granola Day and Salad Day when we prepare them together at the office. Sometimes we have Pizza Day, Pasta Day, Lebanese Day, and so on. Next comes Sushi Day!
12. We plant flowers twice a year. And twice a week we try to save them. Luckily, we still have a pretty green office. The company takes our environment seriously since we spend most of our time here.
13. About that… nobody gets away without being the Reporter of Good News of the Week – meaning the responsibility of sharing good news on our general discord channel, contributing to a positive mindset during the day.
14. We have an official night out every month (most of the time), called Log Out. Like the title, whenever someone has a fun idea for going out or making a party at the office, it happens. We already went to laser tag, beer tasting, karaoke, bike circuits, ping pong games, board games tournaments, or simply went into town for drinks and food.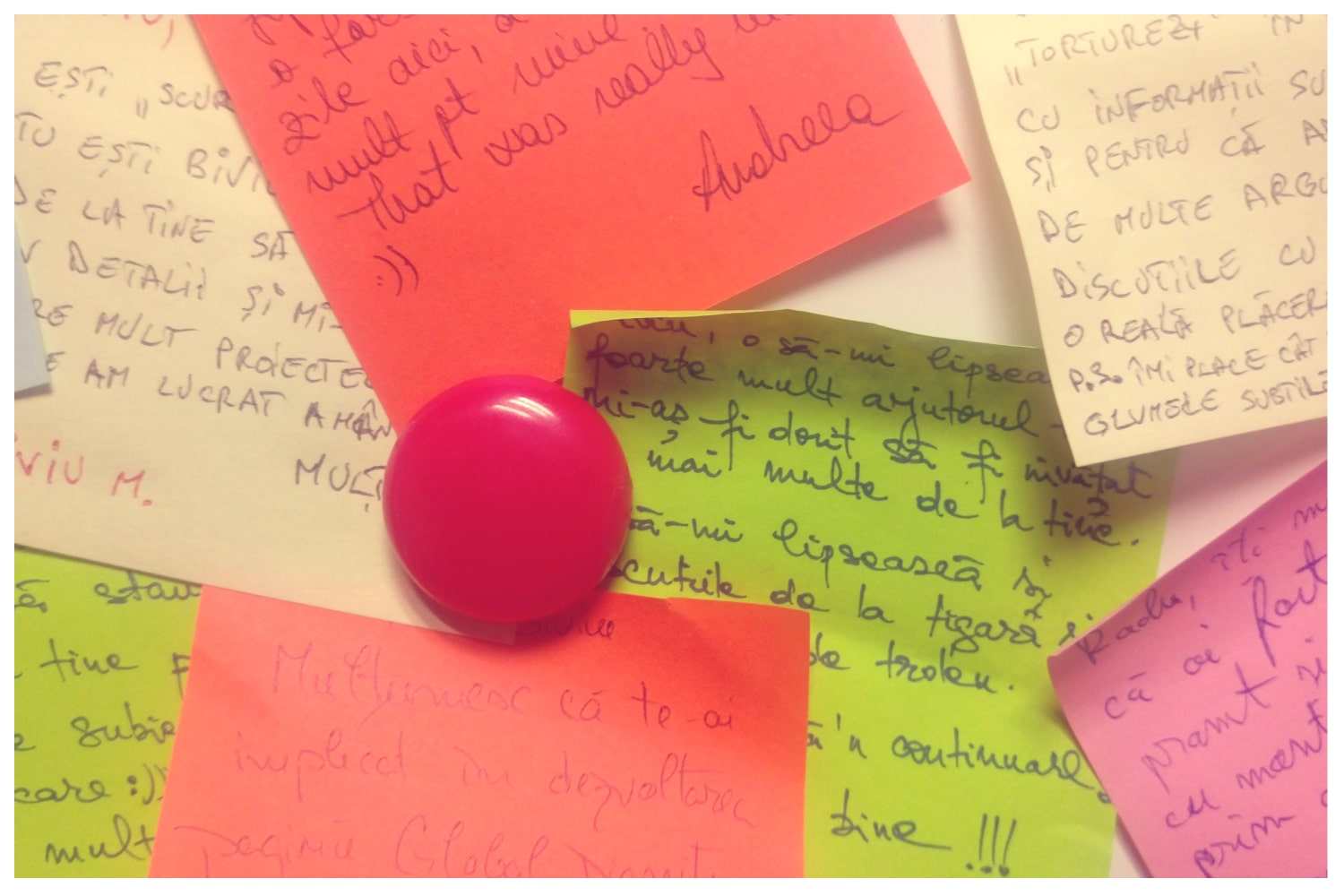 15. Whenever we need or every month, we have a 1-to-1 session with our leaders, to see what we've been up to lately, how we're feeling, what we want to do next, and how far we want to go with our projects – either personal or professional. Besides the fact it's rewarding to see your leaders caring about your needs, your improvement process, and your struggles, you can be completely honest with them.
16. Sometimes we come up with little challenges for us all, either as gamification or simply having fun while learning something new, to improve our teamwork and communication skills, like giving and receiving thank you notes for helping one another, writing on different topics about ourselves, taking charge of certain tasks or events, holding short workshops or seminars about what we're great at or passionate about and so on.
17. We take recruitment seriously since it involves a big part of the company culture. It is based on the candidate's skills, of course, but equally important is his cultural fitting. Is he passionate about what he wants to do? Does he communicate honestly? Does he have respect for what he does, for his team and for the clients, too? Is he willing to learn more and become better?
18. Also, every eJumper who comes on board receives an important project to work on from day one. This is great for accommodation and to show him that he has had a real impact on the company's workflow from the first day, but also that he's valued as an equal member of the team.
19. Maybe most of us are coders and designers and prefer to work just that: coding or designing. But each one of us gets to communicate directly with clients for different projects, here at eJump. This way, you get to understand your responsibilities, but also what project management means, when leadership and diplomacy are needed, and how much hard work is involved in the process of making a client happy. You learn a lot about how to be a professional.
20. You matter.
If you'd like to jump with us like that, come on board!